Synagogue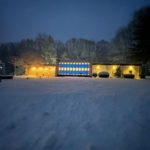 Roosevelt Community 4 U (RC4U) is committed to enriching Jewish life in the historic community of Roosevelt, NJ – and helping feed those in need locally, in NJ, and around the world.
Our Food Bank grew during Covid 19 and delivered tens of thousands of meals to thousands of people in need in Central NJ and across the state.
Our current focus is on feeding the community in need in Ukraine. We enabled the delivery of $250,000 of food for Passover in 2022 and are now partnering with the Jewish Relief Network Ukraine to
needed food and supplies.
Roosevelt is a great community to visit. We have renovated the historic synagogue and host services on
Shabbat and holidays.